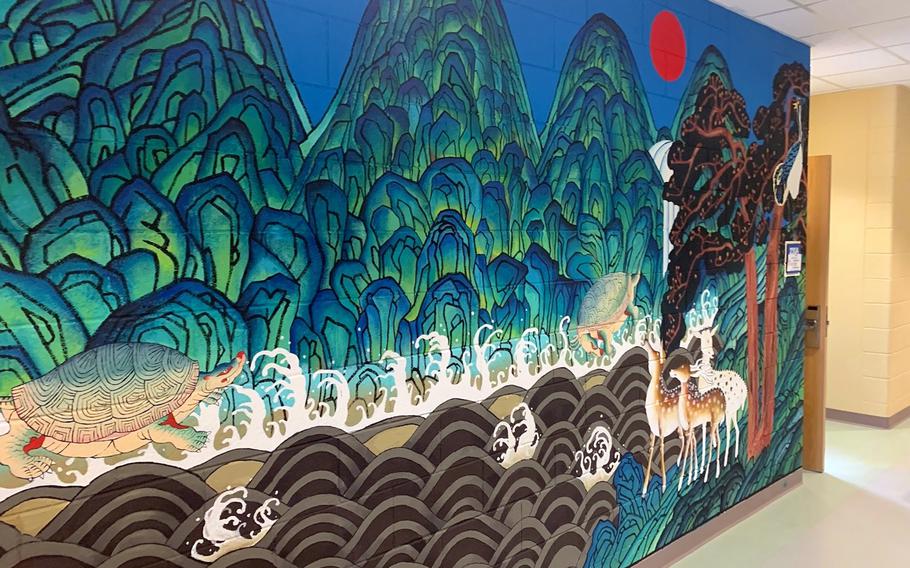 CAMP HUMPHREYS, South Korea – Students at Humphreys West Elementary School discovered a splash of color and a slice of Korean culture when they arrived Monday for the first day of the new school year.
A team of South Korean art students from Chung-Ang University in Seoul over the summer transformed two empty walls inside the school into murals highlighting aspects of their country's culture.
Humphreys West Principal Edgar Romero conceived the project after arriving in November at the school on the largest US military base overseas. Romero said he found the school lacking in artwork, and he wanted students to be exposed to South Korean culture.
"There are things that kids should be exposed to and should be able to talk about" in their culture classes at school, Romero told Stars and Stripes on Monday. He said many of the children at the base are multiracial Korean-Americans.
"I had to bring that little bit of Korea back into the building so the host country teachers could bring in and really immerse the kids," he said of the Korean staff who teach the country's culture.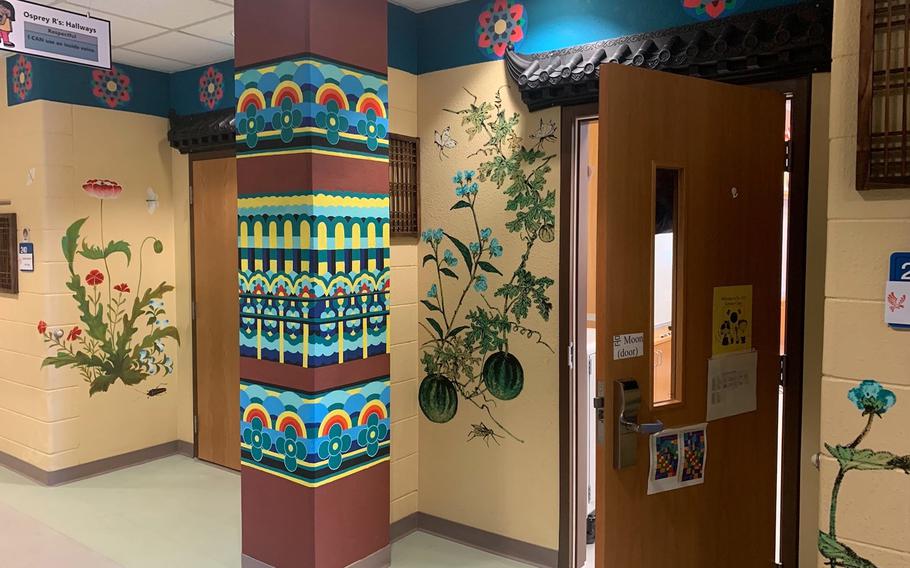 Formerly the assistant principal at Osan High School at nearby Osan Air Force Base, Romero said he has lived in South Korea for 17 years. Exposing military families to South Korean culture has been a challenge, he said, especially when off-base travel was limited due to the COVID-19 pandemic.
"Parents actually have to make a bigger effort to get to a folk village or really expose them to folk art in Korea," Romero said.
Most military families spend only two to three years in South Korea, too short a time to adjust to the host country's culture.
Romero pitched the mural idea to the school's Parent Teacher Student Organization, which contributed approximately $2,000 to the project.
The five students commissioned for the project worked 12-hour shifts over 11 days to complete the two murals, which are on opposite ends of a wall inside the school. The artists painted in an ancient Korean style and included images of mountains, fruits, insects and wild animals. One of the murals was completed in May and the other was completed earlier in August.
Seo Jae Hyun, a third-year student studying Korean painting, said the group wanted to create "a powerful image of Korea."
"The artwork we did was a little difficult," he told Stars and Stripes by phone Friday. "When we started the work, we were very worried because the teachers could be disappointed, or we could hurt our pride if we did it wrong. We are painters, so we couldn't ignore that."
This was the group's first time painting on a US military base, Seo said. He described the experience as "completely different".
"I felt like I went on a trip abroad," Seo said. "And, I had butterflies in my stomach."
School officials are discussing plans to allow Humphreys West students and other organizations on campus to paint more murals at the school, Romero said.
The murals are popular with Humphreys West students, said Jeannette Rho, an educational technologist at the school.
"They loved seeing it," she said Thursday. "It was just bringing color, not just tradition, but color, to our elementary school."
Stars and Stripes reporter Yoo Kyong Chang contributed to this report.