tidings | FeatureS | prior | event
originally published: 20.08.2022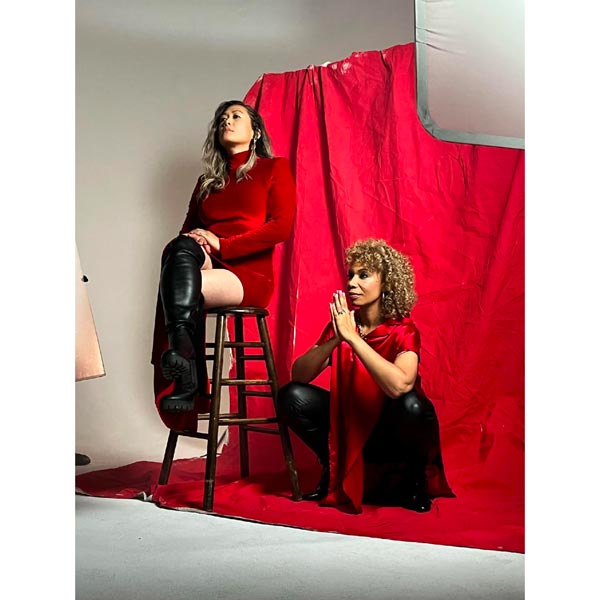 Singer, producer and advocate MILCK has teamed up with BIIANCO, Grammy winner Autumn Rowe and Ani DiFranco for an urgent new protest song "We won't be back," created in response to the overturning of Roe v. Wade, built from audio recorded during a protest on the steps of the Supreme Court in DC.
The new music video, released on August 18, 2022, was directed by Jen Rosentein, who has worked with artists such as Jason Mraz, Pentatonix and Jennifer Hudson, and features comedian Sarah Rose Hyland (MTV Punk'd, MadTV) along with all the artists who created We Won't Go Back. Fifty percent of the proceeds of the song will be donated to him Planned Parenthood, Sister Song AND The Yellowhammer Fund. To join their efforts, the artists invite others to donate to MILCK's I Can't Keep Quiet Fund, housed at the Community Foundation of Louisville, for which 100% of donations will directly benefit the three aforementioned beneficiaries.
Featuring the faces of MILCK and her collaborators superimposed on famous works of art by women throughout history, including the Mona Lisa and Aphrodite, it's a picture of strength and unity that implicates the effect of momentous decisions in today's society—ones that could change the trajectory of progress forever and set back the efforts of generations of activists with a snap political judgment.
"We're Not Going Back" started in DC the day after the Politico leak of Roe v. Wade, which would have eliminated the constitutional right to abortion. MILCK attended a rally where hundreds of people gathered in protest and chanted the cathartic and powerful "We will not return!" it became the ringing anthem.
That night, MILCK took the audio she had recorded from the protests and created a sample of what would soon become a song, which she would share on social media, offering the audio to her community with the goal of others contributing voices and their stories. . "Community is the cure for most problems and this song was no exception," says MILCK, who documented the song's creation and release on social media. Check out more of her Instagram stories: @MILCKmusic and Facebook: /MILCKmusic.
Advertise with New Jersey Stage for $50-$100 per month, click here for info
---
"The process of creating this song embodies one of my favorite quotes from Maxine Hong Kingston: 'In times of destruction, create something,'" adds MILCK. "I hope this song gives people a sense of energy to continue the fight of good. I hope it helps people work through their anger, their determination and their smartness."
"We Won't Go Back" is a full-circle moment for MILCK, who five years ago became known around the globe for the viral performance of her song "Quiet" during the Women's March. "Quiet" became the unofficial anthem of the movement, named Protest Song No. 1 on Billboard and was selected for NPR's American Anthem series. MILCK has since created the Dear Someone Fund, to use her music to generate resources for ten grassroots beneficiaries building power around racial justice, feminism, LGBTQIA+ rights, criminal justice reform and mental health.
Recently, MILCK and Ani DiFranco lent their voices to the cover of Billboard 'Roe' Overturned: Music Leaders How To Take Action. MILCK has been featured in the Grammy Museum, TIME Magazine, Elle, NPR, The Kelly Clarkson Show and more. She has become an important voice for women's rights and has recently spoken at Global Citizen NOW (which also featured Billy Porter, Connie Britton and Gayle King), Planned Parenthood's #BansOffOurBodies Live Stream, Vital's Global HQ Festival Voices alongside Secretary Hillary Clinton and Diane von Furstenberg. and was presented at the Women's Convention by the Women's March this week. On the subject of abortion, MILCK appeared as a guest on the latest episode of Switched On Pop alongside NPR's Ann Powers ( Listen here) and on Katie Couric's Next Question podcast (See here).
PHOTO CREDIT: VEALY CELDRAN
Advertise with New Jersey Stage for $50-$100 per month, click here for info
---