Editor's note: This story is part of Southwest Michigan's Second Wave In the Battle Creek series on land.
Attracting more bees to produce honey has turned into a thriving U-Pick flower enterprise for the Laupp family.
"We have bees," says Mike Laupp, an engineer at Parker Engineering. "In an effort to produce more honey, we planted a large area with wildflowers. (Rebeka) started selling a bunch of flowers at our roadside stand and the word just spread."
In addition to a quarter acre to the left of their home on 9 1/2 Mile Road that features lush flower beds, 1 1/2 acres at the back of their property produces pumpkins and gourds that they will begin sell September 18 Planting, weeding, cutting and harvesting is done under the direction of Rebecca Laupp, a third-grade teacher at Pennfield Elementary School. She gets a lot of help from her daughter Ella, son Zack and husband Mike.
Their business name – ZEMR Family Farms contains the first initial of each family member.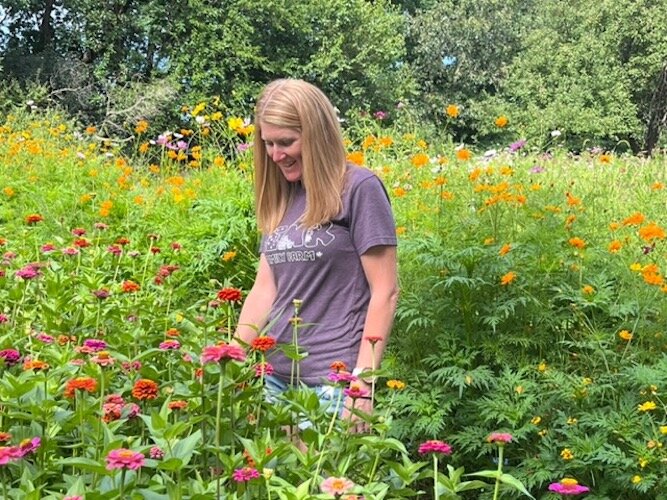 Rebekah Laupp looking at the zinnias that are among the several varieties of flowers growing in their U-pick flower garden"It originally started with a row of wildflowers," says Rebecca Laupp.
Husband Mike says with a smile, "She complained that I never bought her flowers."
"So he made me a field of them," says Rebecca Laupp, smiling again.
That was more than four years ago. There are now more than a million flowers, including 500 zinnias that the family collects and places in vases that hang on a wooden stand near the entrance to their property. People have the option of buying pre-cut bunches or cutting their own flowers for 50 cents per stem.
A couple of hours each day are devoted to flower care, which includes removing heads and weeds. On Thursdays, flowers are collected and made into bouquets for people who don't want to pick their own.
Ella Laupp, on a bike, with her mom and dad, Rebekah and Mike, right, and her brother, Zack, front and center. The bike has been added to their gardens for visitors to use as a photo opportunity."We have regular customers waiting for a bouquet," says Rebecca Laupp. "I always make sure I have nine available and I make sure on Saturday we start again with nine. Sundays are usually slow. This is our fourth year and it's getting bigger every year. We went through a section for bees. Then we did four or five rows. Now we have 28 sections and 14 rows in the selection area U. Each section has different flowers."
Cosmos, Zinnias, Blue Chinese Forget-Me-Nots, Yarrow, Echinacea and Snapdragons are among the varieties of flowers grown. She has recently incorporated Explosion Grass into the mix. Their peaks resemble the patterns made by fireworks on a much smaller scale.
"We weren't sure what the Burst herbs would be like," she says. "It was quite an experiment."
In addition to the herbs, which are used in pre-cut bouquets, 2,000 tulips were planted last growing season. Mike Laupp says he and his family were anxiously waiting for them to bloom. They finally did just in time for Mother's Day. Their family spent most of that day selling tulips.
"We had tulips growing and growing and they just wouldn't bloom," he says. "You only have a small window to sell and they finally opened in time for Mother's Day."
It's about more than flowers
Last Saturday, the family hosted a pollination event designed to encourage people to plant seeds that would grow into flowers that would attract the Monrach butterflies that are now considered an endangered species.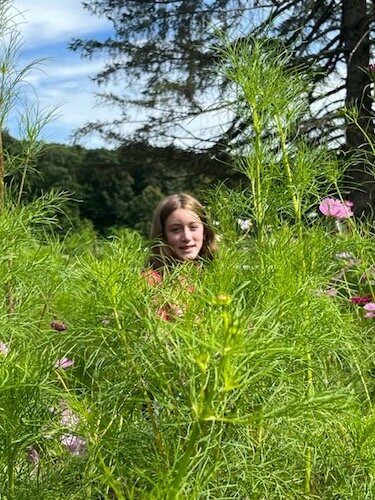 Ella Laupp stands among the flowers at her family's u-pick flower farm.Those who attended the event were given a free packet of seeds with a $5 purchase.
The Laupps have also hosted residents of assisted living facilities in the area, letting them come out to enjoy and pick the flowers.
Their biggest annual event is the one that features pumpkins and gourds that people can pick and buy. Ella, who is in seventh grade at Harper Creek Middle School, uses her artistic skills to paint pumpkins with a wide variety of designs. She sells them for $5, $10 or $15 depending on the size of the pumpkins.
Her pumpkin and gourd designs include logos for Michigan State University, the University of Michigan, the Detroit Lions, and Halloween-themed paintings. Many of the sports-themed pumpkins are displayed at the Copper Athletic Club in Marshall, one of her grandfather's favorite haunts.
"Her grandpa's friends all cheer for different teams, and when he brings the (MSU) pumpkin, they all say their team should be represented, so she ends up with all these orders," says Rebekah Laupp.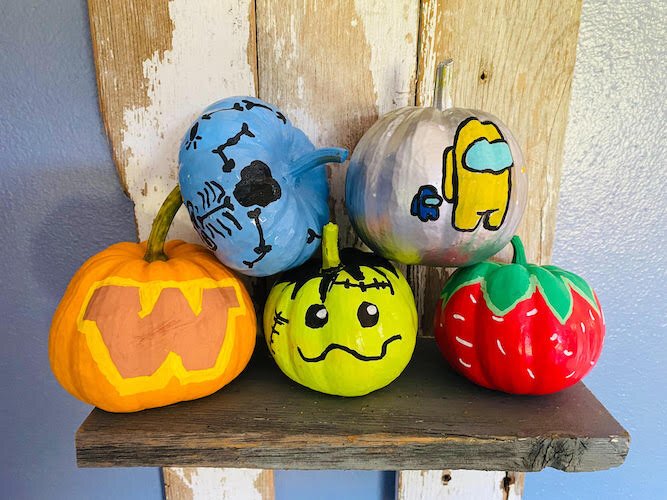 A set of pumpkins decorated by Ella Laupp. She sells them in the fall at her family's U-pick flower farm. In addition to flowers, the family also grows pumpkins and squash that are sold in the fall.Ella also decorates Mason jars to be used as vases for sale at the family farm. And she designs a T-shirt with a new logo for the farm every year for a private family gathering before the annual pumpkin and gourd sale. The sale starts in September and ends in October.
"I wanted to do something to help here," Ella says of her work on the farm.
Zack, 10, who also attends Harper Creek Middle School, has taken charge this year of planting watermelons. "That was his summer project," says Rebecca.
As the farm continues to grow its business and develop, Rebekah says she would like it to become a full-time business. She and her husband encourage people to come out and take photos among the flowers and other plantings. They have placed two chairs and a bicycle in flower patches that people can use as props.
"I've always loved flowers," says Rebekah Laupp. "They just make me so happy and I want to share that with others."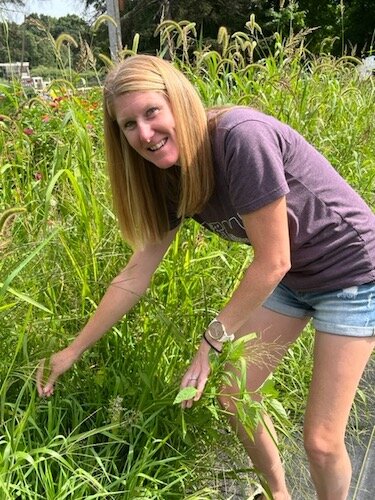 Rebekah Laupp shows an example of Explosion Grass growing in her family's gardens.